Why do I have one tooth that's darker than the others?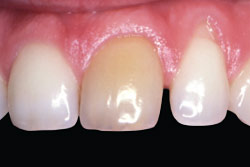 Darkening of one tooth can be indicative of dental disease and it's important to first determine whether or not you need other treatment. If the tooth has had a root canal or needs a root canal, the tooth can be whitened from the inside. If not, then the tooth can be bleached on its own until it matches the shade of the rest of your teeth.
Learn all about our teeth whitening options to see if we can help you achieve the smile you are looking for.
Patient Testimonial:Great Care at Dr. Maria Kim's Office
One of many happy, satisfied patients at the end of their treatment. Thank you for coming in! Read More
Patient Testimonial:A Holiday Card from Some of Our Patients
"Dear Dr. Kim, You are not only the best dentist Tom has ever had; but the most enthusiastic, hip, elegant, warm and compassionate. Have a beautiful 2017!" Read More